SkiSkate™ - Mini Ice Skating Shoes
 50% OFF + FREE SHIPPING FOR A LIMITED TIME
( limited stock available )
A COMBINATION OF

SKIING

&

SKATING!
Ski-Go are essentially a combination of skiing and ice skating. These truly unique mini skis should not be confused with snowblading or skiboarding, as it genuinely feels like ice skating, just on the snow. 
Ski-Go enables you to skate on snow and perform all kinds of twists, jumps, and tricks and lets you access areas like narrow hiking trails you wouldn't be able to access whilst wearing skis. And best of all, they fit into your backpack so you can take them almost anywhere.
Any place with built up snow is suitable for you to have a go. If you are looking for high-speed adventures in the winter leave the heavy equipment at home, strap on Ski-Go and you are good to go!
AS SEEN IN
SKI-GO

KEY BENEFITS
❄️

ONE SIZE FITS ALL 
❄️
One size fits all thanks to adjustable bindings. We recommend Ski-Go for shoes of sizes 6-13 US / 38-47 EU.
❄️

STRAP & SLIDE 
❄️
The daunting task of readying yourself for skiing takes a minute with Ski-Go. Strap them to your boots and the fun begins!
❄️

WINTER SHOES OR SNOWBOARD BOOTS 
❄️
Just attach Ski-Go to any winter shoes or snowboard boots with bindings. We recommend waterproof boots with ankle support for protection.
❄️

COMBINE SKIING & ICE SKATING 
❄️
Ski-Go are essentially like skates for snow. They combine both skiing and skating.
❄️

USE ALMOST ANYWHERE 
❄️
Use them for downhill on the slopes and hiking trails, experience snow parks in a completely new way, or just have fun on your local sledding hill.
❄️

PORTABLE & LIGHTWEIGHT 
❄️
Ski-Go are extremely light and small, so they fit into any bag and are easy to carry around. You don't need ski boots or any other clunky equipment.
❄️

PREMIUM MATERIALS 
❄️
Ski-Go are made of highly durable and lightweight fiberglass reinforced material. Metal ski edges enable easy stopping. Heel brake lets you slow down. 
❄️

FREE WORLDWIDE SHIPPING 

❄️
100% Free Standard Insured Shipping anywhere in the World, we've got you covered.
❄️

30 DAY, 100% MONEY BACK GUARANTEE 

❄️
If for any reason you feel that this product isn't for you, feel free to send us an email at our store address and we'll promptly refund your money. No questions asked! 
PERFECT

FOR "COVID WINTER 2021"
What if ski resorts are closed during winter of 2021?
Take Ski-Go on a hike and slide down the narrow hiking trails and forest paths. This is our favourite way to use them. Have fun on your local sledding hill or enjoy bobsledding along with your kids on your backyard hill. You could also try Ski-Go on groomed Cross-country trails.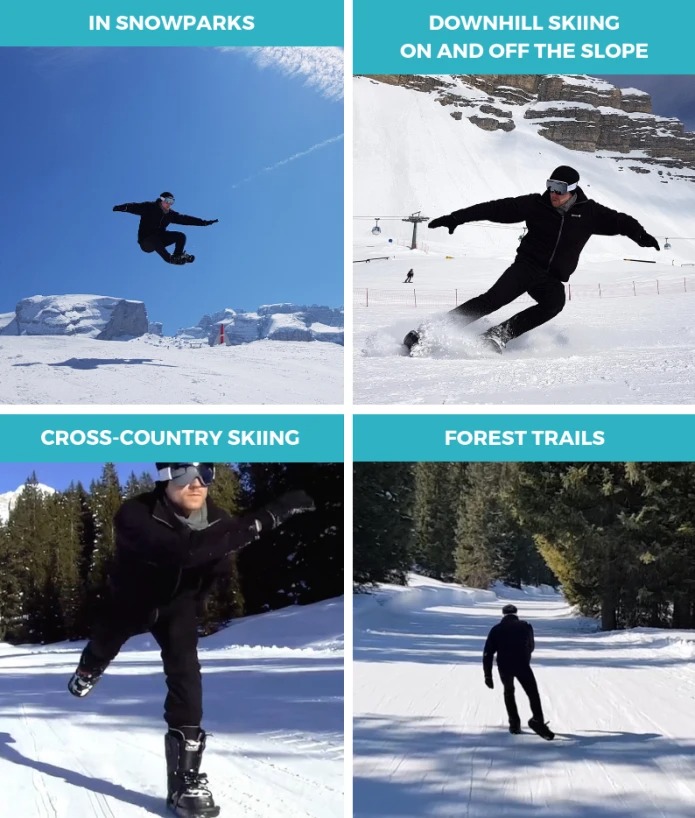 PATENTED &

AWARD-WINNING

DESIGN
The innovation finalist of ISPO, world's biggest sports equipment trade show. The winner of one of the world's most influential design competitions A'design.
Being made in Europe, Ski-Go are made of a highly durable fiberglass reinforced material.
FREQUENTLY ASKED QUESTIONS
Do all ski resorts allow the use of Ski-Go on their slopes?
Ski-Go is a new winter sport and you might come across people who are skeptical of them. That might also happen in a ski resort. However, the base of Ski-Go is made of the exact same metal ski edges as all the other skis.
Our experience is that if you act as if you were skiing with your traditional skis, no one will bother you. And if that happens anyway, argue that Ski-Go are safe and contain metal ski edges, which is the most common requirement of ski resorts. Most importantly don't forget to stay positive and friendly, which helps the most.
Is it hard to learn?
Learning to use Ski-Go is as hard as learning to ski. So it takes some time and you will definitely fall now and then, but that's part of the fun. Don't forget that learning is always effortless if you enjoy the process.
Can I use them in powder?
You can use Snowfeet on snow that is not deeper than +/- 20 cm. Ski-Go are best on ski slopes, snow parks, forest paths and off the slopes too, just not in deep powder. Of course, Snowfeet are best on a groomed snow.
Can I use them on very steep slopes?
Because of their size and weight, it might not be as easy to stop and turn with Ski-Go as it is with regular skis. However, it's not really difficult either. You can stop the same way that you stop with skis or skates. It's also called a hockey stop. Additionally, you can also slow down with a heel brake, like with inline skates. To help you stay safe, we don't recommend using Ski-Go on extremely steep slopes.
WHAT'S INCLUDED
1 Pair Of Ski-Go Snow Shoes

FREE WORLDWIDE DELIVERY
Handling time is 24-48hrs. Estimated delivery between 6-12 business days.
NOTE: Due to COVID-19 Pandemic there are certain delays on all carriers to ship and deliver orders. However, We are working around the clock with our shipping partners to ensure that your order reaches you as soon as possible. These times are certainly challenging but we hope we'll get through this temporary phase soon and keep delighting you with our best service possible. We are sincerely thankful for your support and business. #StayHome
100% SATISFACTION GUARANTEE
No Risk, 30-Day Money Back Guarantee.
100% Quality Inspection on every order.
FREE Shipping. No surprises or hidden fees.
Safe Payments via Credit/Debit Card or PayPal®
End to End Tracking for every order.


100% Secure payment with SSL Encryption.
Orders ship within 1 to 2 business days.
FREE WOELDWIDE SHIPPING ON ALL ORDERS.