HandsFree™ Baby Bottle Holder
The HandsFree™ Baby Bottle Holder is a free hand bottle holder designed to enhance the feeding time for you, your baby and your family.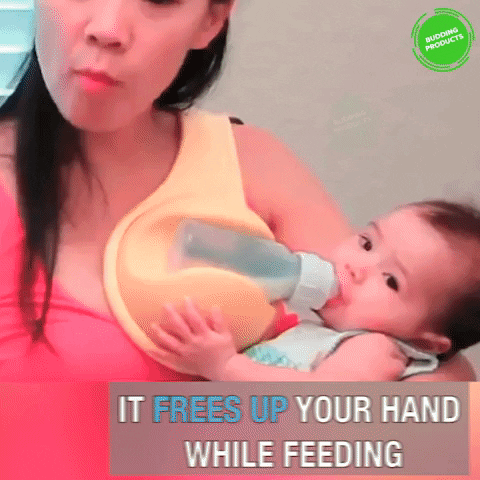 The Baby Bottle Holder free up a hand during these precious moments, giving you the ability to read a book to your baby, massage and caress your baby, or even enjoy family meals together.
Features
✅ Beneficial Bonding/Closeness With Mom and Dad:
Mom and Dad can both take part in feedings with this simple baby bottle holder, which is designed to mimic the position of the breast for the baby. Baby can bond with both parents and give mom (or dad) a much-needed break.

✅ Easy To Use: 
Just put the bottle in the slot, throw the weighted strap over your shoulder, and rotate the bottle until your baby has the perfect angle for drinking.

✅ Fits Any Baby Bottle:
The material is stretchy enough to fit any baby bottle, but grips firmly to the bottle so it won't fall out of the holster. 

✅ Frees Up Your Hands: 
Anyone who held a baby bottle for a whole feeding knows that it can let your arm feeling tired. Apart from that, if you're supporting baby with one arm and holding the bottle with the hand in the other, you can't do much else. Now, you can hold your baby and use that other hand for whatever you want.

✅ Great For Night Feedings:
Those first few months in the newborn phase are exhausting, and leaving night feedings up to one parent is bound to cause resentment. 
100% Secure payment with SSL Encryption.
Orders ship within 1 to 2 business days.
FREE WOELDWIDE SHIPPING ON ALL ORDERS.