PORTABLE TRAVEL FOLDING MINI ELECTRIC IRON.
50% OFF
FREE SHIPPING
The Portable Iron is an ingenious design to keep clothes wrinkle-free during trips. The convenience of maintaining freshly pressed shirts on the go is often lost when traveling.
This compact foldable iron designed for avid travelers so they can be able to carry and use an iron without hassle. 
The ironing part can be opened and folded, either by ironing the ironing board or by ironing on both sides. The ironing board can be hung on the hanger without the ironing board, and the neckline, cuffs, trousers, etc. can be placed. 
Ironing, convenient for travelers 
PRODUCT DESCRIPTION
Lightweight, weighing just 0.81 pounds, it has a flat design that folds about the size of a palm. By spreading out the sides of the iron, you can use it to iron a wide range of clothing like a traditional iron. For small areas such as collars, pockets or trouser legs, simply clip the sides of the iron.
There are 6 adjustable temperature patterns, which can be used according to different fabrics (polyester, Silk, Wool, Cotton, Denim, and Linen).
Has double ironing position: perfect for quick touch or ironing when you need more surface area.
No need for water.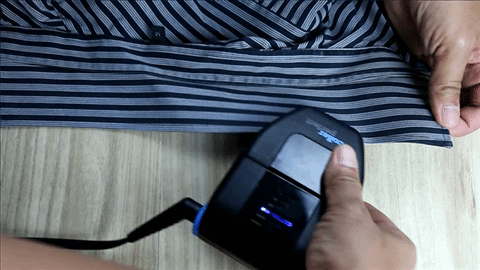 FEATURES
Can be used to select fabric types with thermal level (f/c)
Polyester cloth polyester 230F (110C)
Silk fabric 255F (124C)
Wool is 275 f (135 c)
Cotton fabric (T-shirt) 330F (165C)
Cowboy 350F (176C)
Linen flax 350F (176C)
Shirt Collars
Shirt Hems
Pant Front Creases
Shirt Pockets
Conventional Ironing
SPECIFICATIONS
Board Material: Metal
Stand Material: Iron Tube
Size: 13 x 9 x 4 cm
Voltage: Wide Voltage (110V~380V)
PACKAGE INCLUDE
1 x Folding Portable Iron
100% Secure payment with SSL Encryption.
Orders ship within 1 to 2 business days.
FREE WOELDWIDE SHIPPING ON ALL ORDERS.