Snorkful™ Full Face Snorkeling Mask
It's Time To Boost Your Snorkeling Experience With Snorkful™
Are you tired of using those traditional goggles that only allow you to see underwater for a few seconds? As a beach lover, we would love to see more, right? Throw away your old goggles and upgrade your swimming experience with The SnorkFul™ Full Face Snorkeling Mask! Having the best snorkel mask is indispensable for enjoying your day on the water.
 The Snorkful™ Full Face Snokeling Mask has a GoPro mount on the top portion. If you have a GoPro or similar device, you can mount it on this mask before you go for water exploration and share it with yourself, friends or family.
With Snorkful™, you have a complete 180° view in the anti-fog chamber. Our unique 2-way respiration system lets you breathe naturally as if you were on land.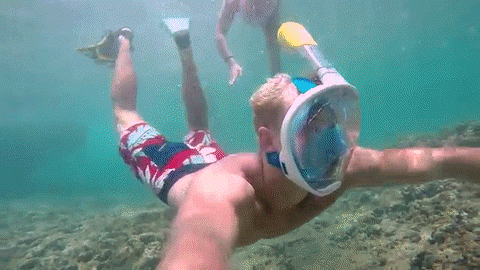 FEATURE(S):
180°FULL FACE DESIGN: Our snorkel mask provides a 180º Panoramic view, makes it easier than ever to breathe comfortably through your mouth or nose while you are snorkeling. You will see more fish and undersea world than ever before!
GO PRO COMPATIBLE: With a detachable for camera mount, you can easily connect your camera and capture the movement around you in a hands-free high-definition.
WELL-CONSTRUCTION: It is wrapped with soft and thick silicone that protects your safety and won't give you a headache for longtime wearing. There's no need to hold a breathing tube in your mouth and clench your jaw the entire time. Just breathe in underwater without worries. It is made anti-leak that is covered top and floating ball design that stops salt water from ever getting into your mouth.
HIGH-GRADE QUALITY: Our Full Face Snorkel Mask for Go Pro is made of high-quality material to ensure its durability. It is made anti-fog, non-toxic, and odorless so it is safe to use.
COMFORT STRAPS & EDGE: The thick, soft elastic straps and the molded plastic edge don't pull on your skin and hair like traditional snorkel masks.
FOLDED-SNORKEL DESIGN: Fold the tube by gently pushing the button. You will never worry about the falling-off or leakage during your snorkeling anymore. This mask will serve you for a long time and perfectly solves the non-folding snorkel masks' problem and the installation difficulties, like easily damaging the buckle and easily lose your snorkel mask.
ANTI-LEAK DESIGN: This Full Face Snorkel Mask for Go Pro is covered top and floating ball design that stops salt water from ever getting into your mouth.
Sizing:

100% Secure payment with SSL Encryption.
Orders ship within 1 to 2 business days.
FREE WOELDWIDE SHIPPING ON ALL ORDERS.