Strike King™ - Automatic Spring Rod Holder

CATCH MORE FISH, LIKE NEVER BEFORE!
How many times have you missed a fish bite only because you didn't get to the rod fast enough? Ten times? A hundred times? Or how about your fishing pole falling over because the rod holder wasn't strong enough? And every time you want to kick yourself because you could've had the perfect catch!
If only you had gotten to your fishing rod sooner, or maybe if you set the hook faster instead of waiting on the next nibble... Now, wouldn't that improve your catch?! You betcha.
It's time to let go of the past, ditch old rod holders, and start catching fish... With the Strike Fishing™ Rod Holder you'll be taking fish pics instead of telling stories! Say good-bye to Skunk City.
Next thing you know: it'll be you that people start coming to for fishing advice, like what's your tackle setup, and oh yeah - where's your fishing spot? (Shhh.. we won't tell :)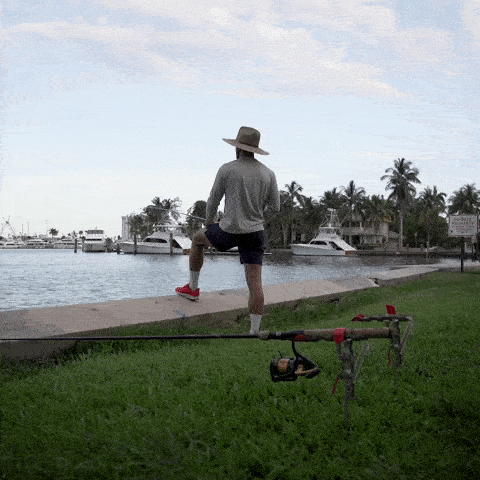 ⭐⭐⭐⭐⭐ "There are several of these on the market. Each one a little different. I own 4 different models and this model here is by far the best one. Setup is easier, new designs works on all my fishing rods, and the trigger is pretty sensitive. -Bill from Texas"
⭐⭐⭐⭐ "My wife is saying, "Just get your pole and hook the fish." I am laughing and saying "Just give it a minute. I would like to see if this thing works." Back comes the fish and more nibbles.... then all of a sudden, the rod flings up. You could tell that a fish is on because the rod did not come all the way up. I grab the rod from the holder and sure enough... FISH ON!!!!!. We could not believe it. The wife and I were laughing the whole time I reeled it in. Landed a nice big catfish! First Time and it worked. -Joshua from Oklahoma"
WHY PEOPLE CHOOSE THE STRIKE KING

™
✅ MADE TO LAST, THE PERFECT TACKLE PIECE
The Strike King™ Automatic Spring Fishing Rod Holder does more than just hold your rod in place. It's like having a fishing buddy that keeps an eye on the line for ya, and an extra pair of hands on the rod. When a fish BITES, it will automatically spring and set the hook! Now imagine that working on multiple rods.
✅ BECAUSE REGULAR ROD HOLDERS SUCK
What you want from your rod holder and what you get from your rod holder are 2 very different things. You want a rod holder that does more than stand your pole up, keep it off the mud, and be easy to pick up. You get a rod holder that's flimsy, falls over, and doesn't set the hook when a fish bites? Get rid of it!
The Strike King™ Automatic Setting Rod Holder is like the ultimate fishing buddy that never sleeps, is-always ready and waiting for the fish to strike.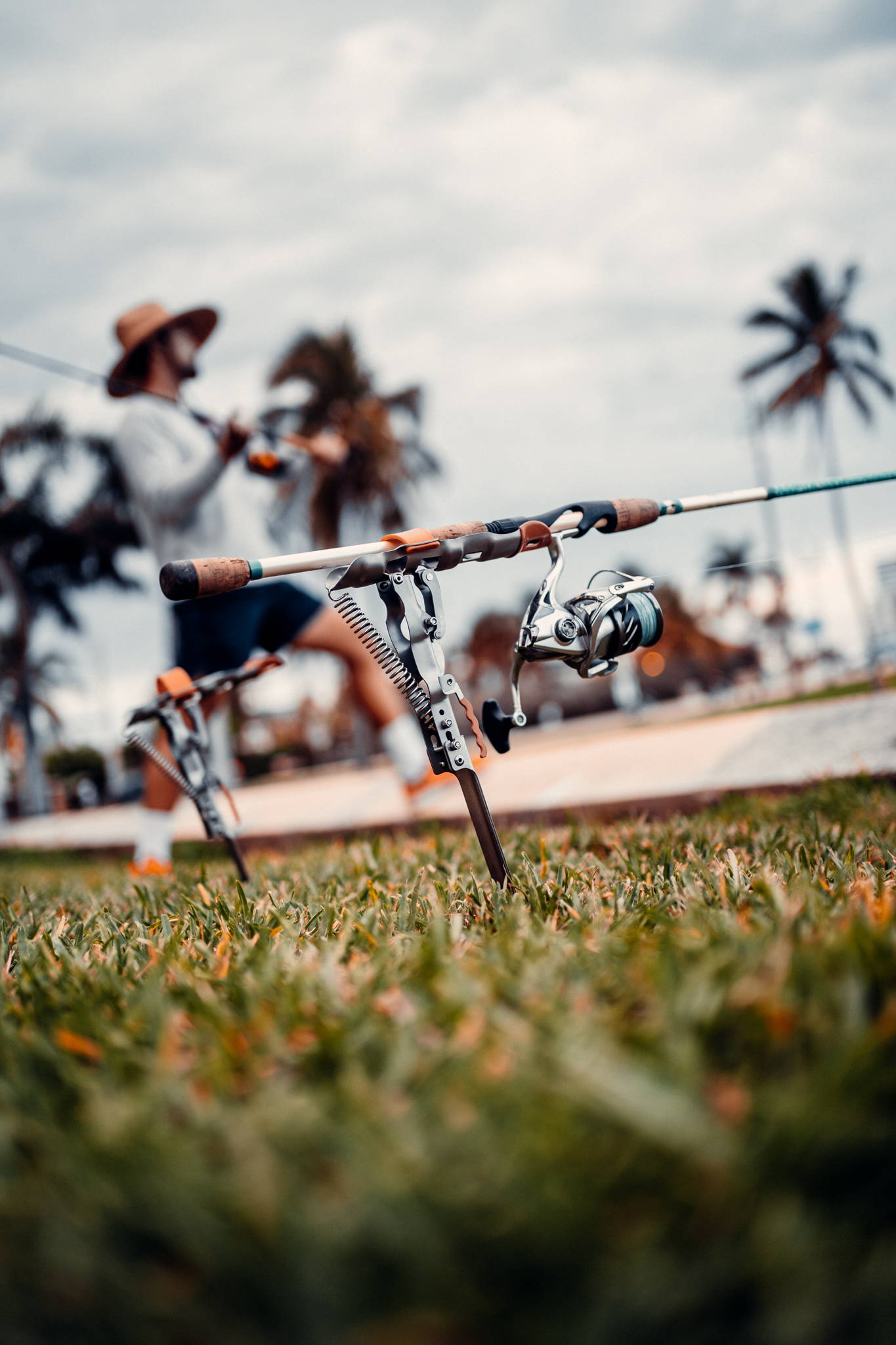 ✅ SAY GOOD-BYE TO SKUNK CITY
Look forward to EVERY fishing trip when you bring out the Strike Fishing™ Rod Holder and get ready for jaw-dropping, eye-popping, loud-yelling "FISH ON" action!
No more telling stories about "the one" that got away, finally fish you can show on a stringer. Because fishing will never be the same, say good-bye to Skunk City.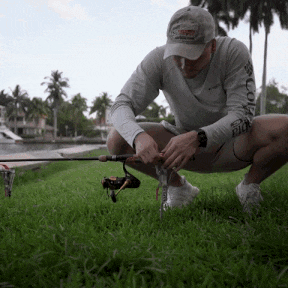 ✅ LIGHTWEIGHT, COMPACT & CORROSION PROOF
Strike King is easy to assemble and it can be easily detached and folded up when you're not using it. The spring rod holder is also corrosion and impact resistant so no worries about it getting wet or it sitting outside for a long time.
✅ HIGH QUALITY
It's made of high quality stainless steel and can support weight up to 50 kg!
✅ FREE WORLDWIDE SHIPPING 
100% Free Standard Insured Shipping anywhere in the World, we've got you covered.
✅ 30 DAY, 100% MONEY BACK GUARANTEE 
If for any reason you feel that this product isn't for you, feel free to send us an email at our store address and we'll promptly refund your money. No questions asked! 
"THEY CATCH FISH!"
"I have bought 12 of these. I own 4 and the rest have been gifts to fishing buddies. I bought them for everyone because THEY CATCH FISH! They're super easy to use and also are very sensitive (when you want them to be)." - Jeremy R. -Wister, OK
"BETTER THAN EXPECTED"
"I fish with 7 or 8 rods while bank fishing and lo and behold, it worked wonderfully as I attended to another rod. Caught a 5lb catfish with it. Great product, worked better than expected." - Jackson W. -Glenwood, AL
HOW DOES IT WORK?
Step 1:

Cast your line

Step 2:

Place your fishing rod in the holder

Step 3:

Wrap your slack line around the trigger, and that's it, you're ready to go!

Step 4: Grab a drink and let the Strike King™ Rod Holder do the work!
SPECIFICATIONS
Material:

Stainless Steel

Adjustable strap:

12cm/4.7inch

Adjustable trigger (3 levels, default setting works on most fish)

Be able to withstand maximum tension to 110 pounds.

Length:

13.03 x 2.72 x 2.28 inches

Storage length:

12.6 inches

Weight:

15.6 ounces (0.8 lbs)
FAQ
What kind of fish does it work on? 
Perch, Bass, Trout, Carp, Catfish and More!
Does it work on baitcasters/spin reels? 
Yes to both!
How big of a fishing pole? 
It fits most rod sizes with a new adjustable strap and stake can be angled during ground plant to work on longer rods.
Is it safe to use? 
Absolutely! We provide instructions for safe use.
Is it LEGAL to use? 
Check with your local regulations. For most states, they don't allow "computer-assisted" or "auto-reeling" in the fish.. which this product clearly DOES NOT! Nor does this product attempt to "snag" fish, which it also DOES NOT! The attempted hook set only happens when a fish tries to Bite which is okay, safe, and law-abiding. No computers, no auto-reeling, no snagging. You still have to pickup the pole, reel in the fish, and there's a chance the fish can escape which is perfectly legal. Get yours now!
WHAT YOU'LL GET
1 x Strike King - Stainless Automatic Spring Fish Detector
OUR PROMISE TO YOU
🔢  FREE Insured Worldwide Shipping: Each order includes real-time tracking details and insurance coverage in the unlikely event that a package gets lost or stolen in transit. Due to high demand in rare cases the delivery time frame is between 6-10 business days. Depending on your location, you may receive items much earlier.
👩‍🔧 24/7 Customer Support: We have a team of live reps ready to help and answer any questions you have within a 24-hour time frame, 7 days a week.
🏅 Safe & Secure Checkouts: We use state-of-the-art SSL Secure encryption to keep your personal and financial information 100% protected.


100% Secure payment with SSL Encryption.
Orders ship within 1 to 2 business days.
FREE WOELDWIDE SHIPPING ON ALL ORDERS.